Best Gymnastics Leotards – New Models and Top Picks in 2020
Whether you're an acrobatic, artistic or rhythmic gymnast, wearing the best gymnastics leotards when competing is crucial. The costume must complement your routine and catch the eye without hindering your movements, and you should always pay attention to the choice of materials.
The best leotards should be lightweight and breathable; otherwise, they might become uncomfortable mid-way through your routine or even cause rashes or allergies.
With this in mind, deciding where to buy your gymnastics gear is tricky despite the market being full of choices. Undoubtedly, that's why many athletes wonder what is the best place to buy gymnastics leotards for both training and competitions.
If you've been competing for some time now, though, you perhaps know already that the question "where can I buy gymnastics leotards" doesn't have a simple answer.
There are too many things to consider before dropping your money. From colors and designs to the quality of the material and affordable prices, you have to weigh in a lot of things. To help you out, we put together this useful guide.
So, if you want to buy gymnastics leotards but don't know where to start, here are some of the best models from a new Gymnastics Fantastic collection to consider.
1. Rhythmic Gymnastics Leotards
The best gymnastics leotards for rhythmic gymnastics are all about looks and high-quality materials. For this sport, you should aim for a perfect fit, bright colors, and flawless decorations on your competition suit. The costume must be comfortable yet eye-catchy to draw everyone's attention to the athlete.
While there are countless models to choose from, the five below really caught our attention.
This graceful leotard is a great choice for gymnasts of all ages. It impresses with a fantastic combination of flesh-colored mesh and black stretch spandex and velvet. It comes with or without crystals, and it can definitely make heads turn.
A V-neckline adds even more attractiveness to the game while the fabric details give it a dress rather than a swimsuit look.
Gymnasts aiming for a pink leotard may find all they were looking for in the Ophelia model. Like the Mysterious Way, this costume is made from a combination of flesh-toned mesh and rich pink velvet.
Crystals on the chest and hip areas add the wow-factor, or you could choose a crystal-less variant if you're not quite a fan of the glitz.
Coming in sizes from 26 to 48, this elegant costume is a great choice for a sweeter routine; perhaps, one performed to the rhythms of jazz and blues.
If the price is not a concern, but you want the best gymnastics leotards out there, check out the Obelisk.
What makes this costume stand out is the choice of flesh-toned mesh as the base, while stretch Lycra only acts as a decoration. The result is a bold leotard that somehow reminds of the superheroes ready to conquer the world or the jury, in this case.
We particularly like the color palette of this costume that blends bold tonalities of intense blue and red. Needless to say, this is a super costume for a super gymnast.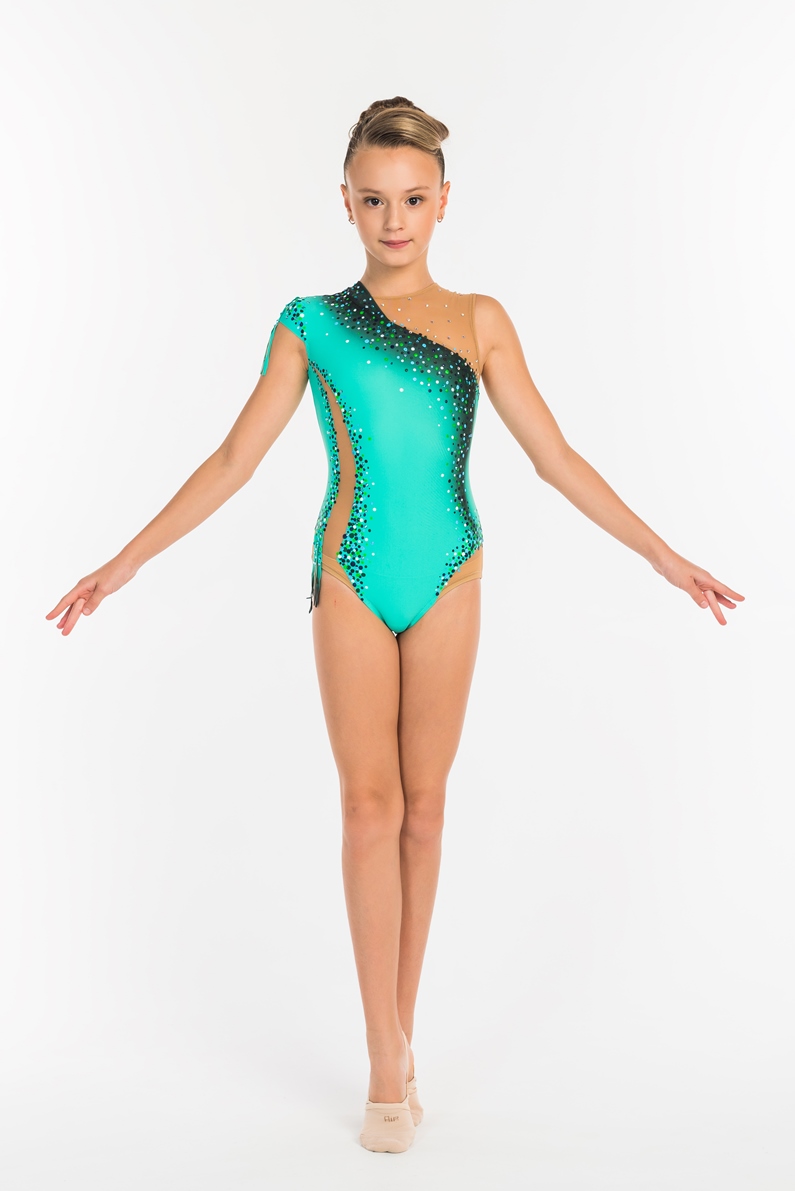 Those looking after good gymnastics leotards at a price that won't break the bank could choose Majorca.
Costing a fraction of the Obelisk's price, it attracts with an intense tonality of turquoise that reminds of the Caribbean blue waters. A shade that not only catches the eye, but that can mesmerize both the audience and the jury.
The suit is also embellished with crystals, and overall, it looks literally amazing.
If you didn't know by now, rhythmic gymnastics is all about artistic presentation and grace, and Flaming Ice is a leotard that exudes both qualities.
Combining the cold shades of ice with the hot tonalities of fire, this gracious costume leaves nothing at the chance. It is bold and transmits endless energy to both its wearer and the public.
2. Artistic Gymnastics Leotards
Where rhythmic gymnastics leotards are more about looks than functionality, things are slightly different when we speak about the best gymnastics leotards for artistic gymnasts. These suits are usually much more simple as they must highlight the gymnast's technical skills rather than the artistic ones.
For this reason, most gymnastics leotard shops propose simple models that do what they're supposed to do but are plain boring. Now, you needn't despair. Some good places to buy gymnastics leotards also offer original costumes for artistic gymnasts.
These suits must be flexible, breathable, and have excellent resistance to wear and tear. They're typically made of lycra and hologram fabric, but not the materials that tear at the first impact.
In this case, too, you can choose from countless models. Check out some of the newest ones to get you inspired.
One costume that stands out is the Neva. This distinctive handmade costume is made from rich blue Lycra decorated with inlays of Gzhel style painting. Crystals on the chest and hip exude personality, and despite being sober, this leotard will surely make you stand out from the crowd.
We particularly like the floral design that, despite being purely Russian originally, looks great on all gymnasts, regardless of their nationality.
Mara is a fantastic model to consider if you're looking after long-sleeve leotards. This workout leotard combines bright shades of pink and gold with elegant black. Crystals on the black waves enhance the beauty of this costume, while the top-quality spandex material ensures you'll have flawless performance.
Like the Neva leotard, this costume attracts with its shininess, and it can easily impress the jury.
Suitable to use as both competition or training leotards, Lausanne is a bright blue model inspired by the Alps. This gradient blue Lycra suit features indigo-colored mesh and silver inserts that make it incredibly aesthetic despite its simplicity.
Gymnasts aiming for a bit of color and a low price might love Karne. The main difference between this model and the other artistic gymnastics suits above is the choice of matte instead of glossy Lycra.
A rich selection of colors reminding of the Northern Lights counterbalances the lack of shininess and makes this costume one of the best gymnastics leotards for athletes on a budget.
Those who want to buy gymnastics leotards online may also like modern Irena. This costume tries to convey Russian patriotism while being suitable for all gymnasts regardless of their nationality.
The blue background embellished with animal-print mesh and crystals looks incredibly attractive and can bring a breath of fresh air into your routine.
3. Custom Gymnastics Leotards
Whether you're a rhythmic or artistic gymnast, it's often hard to find a place where you can buy gymnastics leotards that fit you perfectly. Sure, reading the sizing chart could give you an idea about the fit, but the truth is that the only gymnastics clothing that will look perfect on you during a competition is the one that's custom made.
Perhaps you're now wondering what is the best gymnastics leotards brand, but the truth is that the right question to ask is who can make bespoke gymnasts wear.
At Gymnastics Fantastic, we brag with years of experience in the field, and our team knows exactly what it takes to manufacture both rhythmic and artistic gymnastics leotards.
Custom Rhythmic Gymnastics Leotards
If you're a rhythmic gymnast, perhaps you know already that meeting a gymnast in the same costume as you could wreak havoc. That's why ordering a bespoke suit is the only way to ensure your performance will be complemented by a unique costume.
You can choose from a variety of materials, such as stretchy mesh, Lycra, and velvet. Each costume can also be personalized with crystals or other unique details. Simply send us your measurements and an idea, and we'll come up with a sketch of your perfect competition costume.
No doubt, the only way to exhibit your personality, a customized Gymnastics Fantastic leotard will add character to your routine.
Custom Artistic Gymnastics Leotards
Over the years, we also learned what it takes to make the best leotards for artistic gymnastics. Noble materials are still desirable, but what matters here is performance.
Perhaps the most important part of an artistic gymnastics suit is its flexibility as well as breathability. This type of costume shouldn't hinder your movements so that you could do all kinds of exercises without feeling constricted.
Our great leotards for artistic gymnasts are typically made from technical materials, such as thick spandex or Lycra. Instead of adding numerous decorations, we chose to make our artistic gymnastics leotards stand out through colors.
You can choose from a variety of shiny or matte fabrics, as well as a wide variety of colors and shades. Furthermore, you can also choose between sleeveless or long-sleeve models.
Custom Acrobatic Gymnastics Leotards
Besides leotards for rhythmic or artistic gymnastics, we also make leotards for acrobatic gymnastics.
These costumes should combine the qualities of both types of swimsuits above as acrobatic gymnasts need to wear garments that can deliver strength, flexibility, and cooperation.
Acrobatic gymnasts usually choose richly decorated costumes. Our range of fabrics comprises a wide selection of meshes, velvet, and spandex. You will also be spoilt with choices when it comes to colors, and each suit can also be decorated with crystals.
Wrapping It All Up
Finding good places to get gymnastics leotards is often tricky, but luckily, there is Gymnastics Fantastic. Impressing with an evergreen collection as well as attractive new additions to the range, we are here to help all gymnasts.
Leotards are made from the highest quality materials, and it is easy to find both competition and training models.
Gymnasts wanting to take their game one step further can also opt for custom leotards. Just fill in the online form with your measurements and desired style, and the specialists will get back to you with sketches. No doubt, we have all that you need to compete in all peace of mind.
Tweet
Like
+1
Share
Share
Pin it
Read more
01 Sep 2016 at 06:00
01 Sep 2016 at 06:00
01 Sep 2016 at 06:00
Like it? Tell your friends
Tweet
Like
+1
Share
Share
Pin it